Mara Buoy
A new solution to an age-old problem with mooring buoys.
With a passion for sailing, but a frustration with poor design, the Mara Buoy was developed by a keen yachtsman and engineer who knew there must be a better way to moor a boat than a few shackles and ropes cobbled together. Re-engineered from the chain up, the Mara Buoy is an innovative design that gives users a safe, easy and reliable mooring system.
Safety
Ease of use
Excellent night time visibility
Reliability
Structural integrity & Maintenance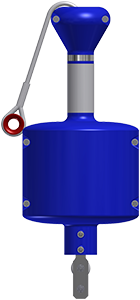 Two Ranges
Mara Buoy

Static
This is an elegant and simple design which allows deck level mooring. The mooring line is terminated in an high strength polymer eye and the crew member simply picks this up, they pass their own line through the eye, and then secures it back on board. Simple, safe, and easy.
Mara Buoy

Dynamic
The Mara Buoy Dynamic uniquely pays out slack line upon initial pick up. This makes it easy for the crew member to reach out, pick up, and make the mooring line fast to the deck cleat before the mooring load comes on the system. The Dynamic also includes an integrated swivel giving high levels of structural integrity and low maintenance.
All of the buoys in our harbour are now Mara Buoys and I, along with all that have used them, are delighted with them. From my perspective I am very happy with the limited maintenance required. All in all I am very happy with our investment.
Donald McAllister
|
Tarbert Harbour Authority