Everyone that has used your buoy has praised the ease of use. I can honestly say that all the feedback has been positive.
Jim Traynor
|
Tobermory Harbour Authority
Features
Name
15:100 S
15:100 D
15:150 D
Visual
Safe & Easy
Pick up point at deck level
Mooring line always remains clean, free from marine growth.
High Night Time Visibility
3M Reflective surfaces aid night time use and close quarters navigation.
Reliable
The mooring line runs over radiused surfaces, reducing chaff and increasing reliability.
Smart Engineering

Connection eye formed in polymer to protect both buoy and vessel mooring lines from chaff.

Mooring line runs to bottom of buoy where it is linked directly to connection shackle.

The mooring line is allowed to swivel inside the galvanised steel backbone, thereby eliminating an underwater swivel.

Inspection of mooring line and swivel is easily carried out through a window in the backbone.

The underwater connection is a shackle to the mooring chain, giving a simple, strong connection and peace of mind.

Deck Level Mooring System
Safe and easy to use
High levels of structural integrity
Foam Filled Buoyancy
3M reflective tape for night time use
Minimum breaking load
15 t
15 t
15 t
Height above water level
100 cm
100 cm
150 cm
Dynamic mooring line for ease of pick up
Static mooring line
Integrated above water swivel
Easy visual inspection of mooring line
Overall Diameter
80 cm
80 cm
80 cm
Draft
95 cm
150 cm
150 cm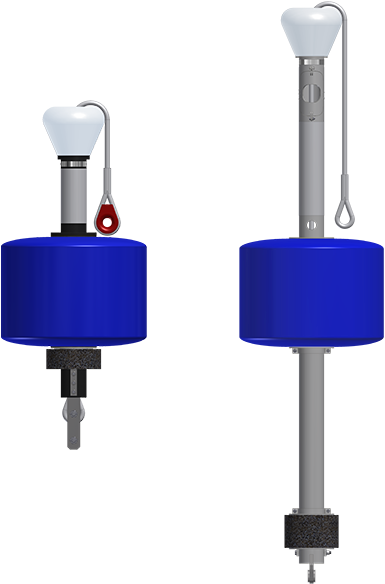 Buoy Colours
Mara Buoys come in a range of colours.
Click to choose your colour: